timINg
A Concert for 8 Dancers and Orchestra in the New Stage Area
Project Libretto: Petra Tejnorová and Lukáš Trpišovský
National Theatre New Stage, Prague, 2011
The concert for 8 dancers and orchestra is a probe into the interior of the New Stage building as well as into the inner worlds of the individual dancers. And all that with Berg Orchestra directly on stage while time is being measured by 100 metronomes and one minute may feel like eternity …
The initial impetus for the joint project of BERG Orchestra, Dekka Dancers and the National Theatre Ballet ensemble were Poème symphonique for 100 metronomes, György Ligeti's Ramifications, Aaron Copland's Clarinet Concerto and Louis Andriessen's Dances.
"The resulting project will be somewhere between concert and theatre. The choreography will be created by Tomáš Rychetský and Viktor Konvalinka of Dekka Dancers. Director Petra Tejnorová who is working on this performance has an affinity for physical, authors' theatre," Lukáš Trpišovský, dramaturge of the project, adds.
"The title itself – timINg – brings to mind a play on time and timing. The question arises: how fast does time pass for man? By combining the New Stage space with the individual dancers' inner spaces, a journey has come into existence – travelling in time and space while the New Stage appears to be a labyrinth in which a man gets lost, " Lukáš Trpišovský explains the project title. "And so images originate, picturesque stories that take us to the deepest places inside ourselves, to the subconscious where reality appears to be a dream vision reflected in a mirror. The journey into the labyrinth is just as inevitable as it is unpredictable. What can exist independent on time and space?" director Petra Tejnorová comments.
BERG Orchestra
Conductor: Peter Vrábel, Clarinet: Irvin Venyš, Soprano: Barbora Sojková
Choreography: Dekka Dancers (Tomáš Rychetský and Viktor Konvalinka)
Dancers: Natálie Rychetská, Sylva Nečasová, Zuzana Šimáková, Aya Watanabe, Tomáš Rychetský, Viktor Konvalinka, Jonáš Dolník, Tomáš Červinka.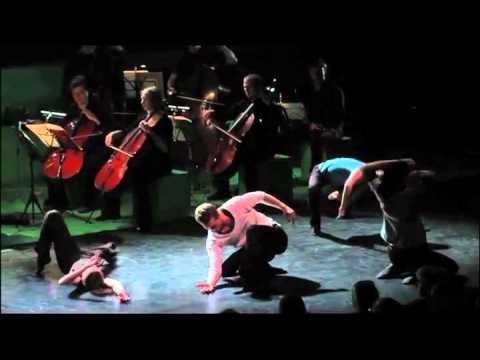 Directed by: Petra Tejnorová
Dramaturge: Lukáš Trpišovský
Production: Eva Kesslová (Orchestr BERG) a Martin Rypan (balet ND).
Stage Design: Antonín Šilar
Music: György Ligeti, Aaron Copland a Louis Andriessen
Sound design: Zbyněk Perla
Photo: P.Hejný